REWS are making good headway after their release of their newest single BIRDSONG. I chatted to Shauna from the band, have a read of our conversation below:
For those out there who haven't heard of Rews before, how would you describe the Band?
I would say the REWS sound is high energy fierce femme alternative rock / pop sound.  The inspiration behind a lot of the songs is deeply rooted in wanting to share a bit more positivity and comfort through tough situations.  The band is a revolving cast of awesome musicians who I get to play with during different events but usually compromises of a drummer, bassist and myself! 🙂 
If I were to use the phrase "for fans of", who would you say you are similar to?
Hmmm… maybe Yungblud, Royal Blood, Paramore, Foo Fighters, Deftones?? Bit of an eclectic mix! Haha!
You recently released your latest single "birdsong". Is the hinting at more new music on the way?
It sure is!  I've just finished recording the album actually!  I'm very very veryyyyy excited to release more soon! :). The new year will be full of musical treats!
Who was the song (and album) produced by? Have you worked with them before?
The song (and the rest of the second album) was produced by Alex Loring and Tom Andrews.  I hadn't worked with them before but it was super fun and I'm delighted with the sound we've created together! 
Where did the inspiration for the lyrics for Birdsong come from?
I wrote the song after finding a little wounded bird whilst out for a run one day. I was reading 'You Are A Bad-Ass' which is a kind of self-help style book (its pretty good!) around the time and I kind of imagined how that bird would feel if it were feeling human emotions. I reflected some of the stuff I had been reading and I really wanted to write something that would inspire others to get rid of negativity in their lives and just get up, accept who they are, where they are and do their best to fight for the things they love and forget about peoples negative opinions. And I guess the writing process inspired me to keep my chin up and keep striving to do what I love too.
The music video for Birdsong looked like a lot of fun to make. Where was it recorded and what did it involve?
It was a hell of a lot of fun to make!! Jonathan Finnis Films and James A Chisholm made the video – total legends!!
Basically, I had a very strong idea visually of how the video should look and that was to go through a metamorphosis from feeling trapped in a cocoon to floating in the sky – similar to the message in the song. I was keen to make it a bit darker than the previous videos, and because REWS has went through a line up change, wanted to show that they band was different too. SO we all put our heads together, gathered up two of the fab musicians who I get the pleasure to play with (Ele Lucas on Bass, Karen Jones on drums) for the live stuff & as a narrative, we came up with the silks idea. So James arranged a session with an amazing silk artist (Nix Pretlove) and she showed me some great movements on the silks and what I could do to go through that metamorphosis and 'fly' on the silks! It was great fun!! The day came and we had half a day of band shoot and half a day of silk shoot – I actually developed motion sickness reallllly badly during the spinning and almost threw up a few times… the things you do for art hey??
When are you next on tour, and where can we catch you?
Heading off on Sunday to Ireland – I'm supporting The Darkness on my UK tour up until the 20th Nov and then I have my own headline run in March 2020 across the UK – which has been called 'The Phoenix Tour'!  I'm delighted to be playing along with the fantastic Scott Hislop on drums and Ele Lucas on bass!  <3. Check out the tour dates at www.rewsmusic.com/listings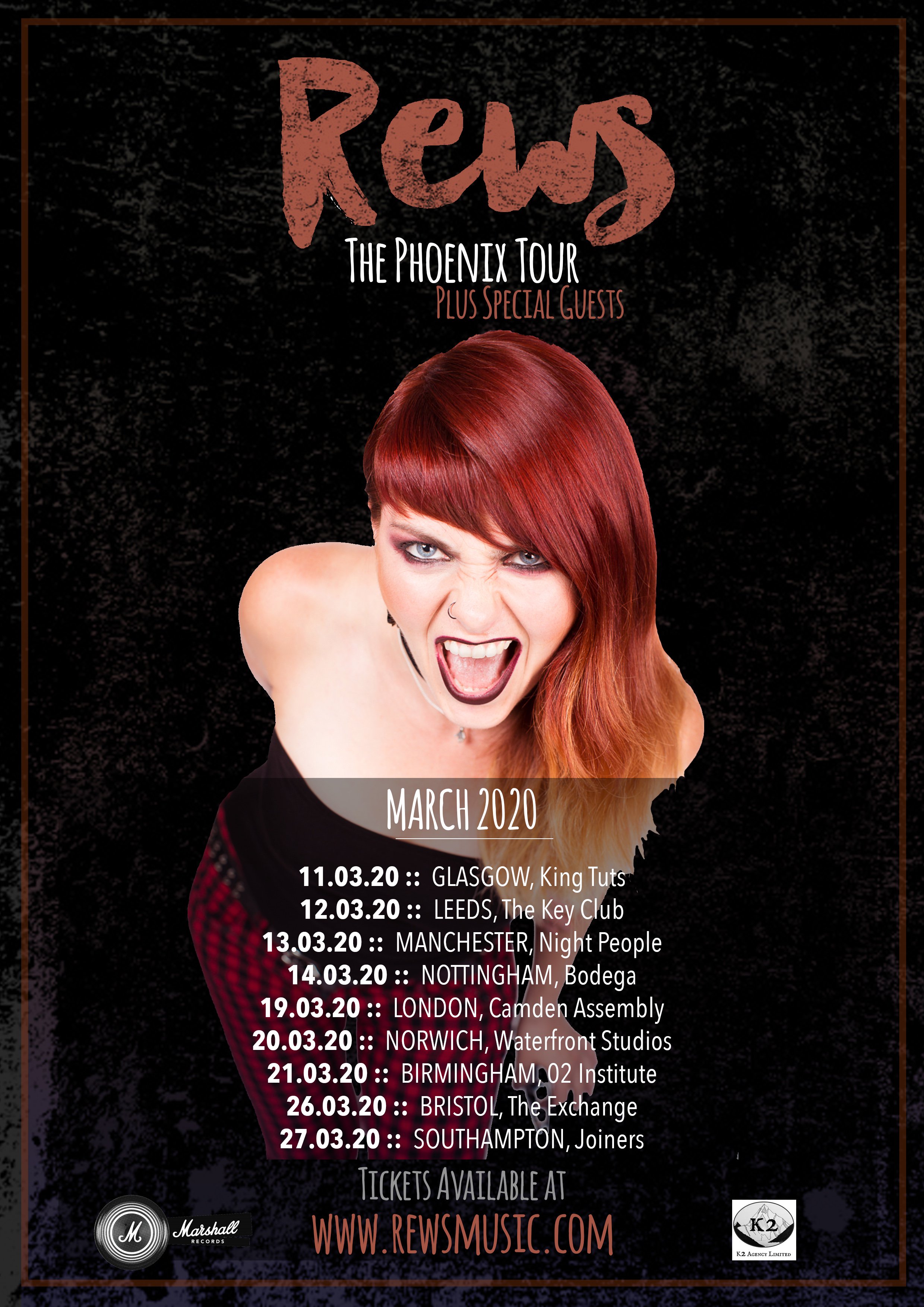 March 2020
11th – King Tuts, GLASGOW
12th – The Key Club, LEEDS
13th – Night People, MANCHESTER
14th – Bodega, NOTTINGHAM
19th – Camden Assembly, LONDON
20th – Waterfront Studios, NORWICH
21st – O2 Institute, BIRMINGHAM
26th – The Exchange, BRISTOL
27th – Joiners, SOUTHAMPTON
And finally, where can we find out more about you?
You can check out the website – www.rewsmusic.com
Socials:
Instagram @rewsmusic
Twitter @rewsmusic
Facebook @wearerewsmusic
Youtube /wearerewsmusic
I'd like to say a massive thank you to Shauna for taking the time to answer my questions and wish her and the rest of the band the best of luck with the upcoming album release and tour!